Mayor Indya Kincannon introduced Paul Noel as Knoxville's Chief of Police. Noel is a 25 year-plus police veteran and served as Deputy Superintendent of the New Orleans Police Department. Mayor Kincannon said, "Paul is passionate about serving and believes transparency, accountability, and accessibility are key to being an effective leader.
"He is also a nationally recognized advocate for preventing mistakes and misconduct by police officers and I look forward to him bringing his experience and expertise to our city."
Mayor Kincannon and Chief Noel will be at our October 14th meeting. Come learn more.
If you would like to sponsor a breakfast email Ethan Kirk ekirk@emeraldyouth.org.
Meeting Details
When: October 14th
Time: Networking and breakfast 7:45 am, meeting begins at 8, adjourns at 9 am
Where: Emerald Youth Haslam-Sansom Ministry Complex Lonsdale (1740 Texas Ave.)
Mark your calendars – We meet on the 2nd Friday of every month at varying locations. Problems, please email nkbpa.info@gmail.com and let us know how we can improve.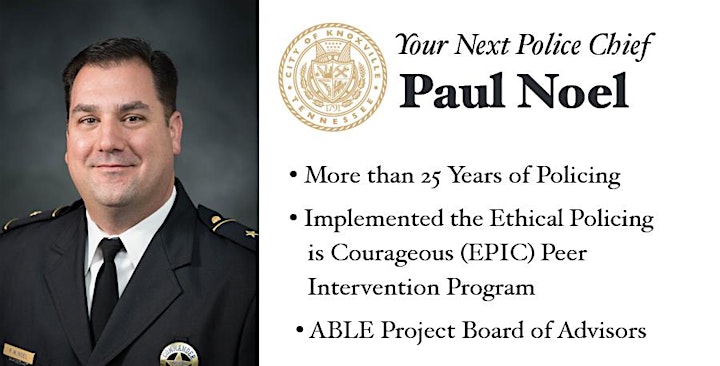 When: OCT. 14th, Mayor Indya Kincannon and Police Chief Paul Noel
Time: Networking and breakfast at 7:45 am, meeting begins at 8, adjourns at 9 am
Where: Emerald Youth Haslam-Sansom Ministry Complex Lonsdale (1740 Texas Ave.)